Privacy Policy
ECONUME uses cookies to enhance your browsing experience and to had better tailor its website and apps to your needs and preferences. If desired, you can block the installation of cookies, but this may prevent the optimum operation of certain website and application components. By clicking 'I agree to the use of cookies' in the banner, you give your express permission to use cookies in accordance with this cookie statement. You can withdraw your permission at any time by changing your cookie preference. This statement contains more information on k-polygene's use of cookies, and on how to change your cookie preference.
1. What are cookies?
Cookies are small data or text files installed by your computer or mobile device each time you visit a website or use a desktop or mobile application. Cookies are used to recognize the user for various purposes (see item 2), e.g. to improve and simplify your visit to our websites by saving your preferred language.
2. What types of cookies are there?
Below is some general information about types of cookies. Item 4 contains more detailed information about the types of cookies used by ECONUME.
A. Temporary cookies
Temporary cookies, or session cookies, are only stored temporarily during a browsing session and are removed as soon as you close your browser.
B. Persistent cookies
Persistent cookies remain on your computer or mobile device after you close the browser or application and are used to recognize you when you return to our website. Persistent cookies remain on your computer or mobile device until they expire, a new cookie is installed, or until you remove them.
C. First party-cookies
First-party cookies are managed by a website and come from the website you are viewing or application you are using.
D. Third-party cookies
Third-party cookies are managed and installed by a third party during your visit to ECONUME website or use of ECONUME application. Third-party cookies are used to forward certain information about your visit to our website to a third party. Third-party cookies can also be used for marketing purposes to customize the advertisements you see; these are known as advertising cookies.
E. Strictly necessary cookies
Strictly necessary cookies, or essential cookies, are required for the proper use of our website and applications. We use these cookies to verify your identity each time you log in before we grant you access to your personal account. Blocking these cookies will prevent the optimum operation of certain websites or website components.
F. Performance cookies
Performance cookies are used to collect information on how visitors use our websites and applications (which pages they viewed, the average duration of their visit, etc.) in order to improve the overall operation of the websites and applications.
G. Functionality cookies
Functionality cookies facilitate your visit to our website and improve your browsing experience. Among other things, these cookies allow a website or application to remember certain settings, such as your preferred language, layout, or color scheme. We use functionality cookies to improve your website experience.
H. Advertising and personalization cookies
Advertising and personalization cookies are used to collect information on the browsing behavior of visitors to our websites to customize our advertisements and website content to their personal interests.
I. Tracking cookies
Tracking cookies are used to track visitors' Internet browsing behavior and collect data and information on their browsing behavior from the various websites they visited.
3. How do I change my cookie settings?
You can block the installation of cookies in your browser settings. Instructions on how to block cookies in the most common browsers used are available athttp://www.aboutcookies.org/.
More information is available on the following websites:
Cookies in Internet Explorer
Cookies in Mozilla Firefox
Cookies in Chrome
Cookies in Safari
Previously installed cookies can be removed from your computer or mobile device at any time.
4. Which cookies does ECONUME use?
We currently use only temporary sessions cookies. These are exclusively restricted to the storage of technical parameters related to user's navigation.
Terms and Conditions
Art. 1. Object
These General Terms and Conditions apply to all sales by ECONUME whose registered office is at 68 Rue du Faubourg Saint Honore, 75008 Paris - France and which is entered in the Register of Legal Persons in Paris n° 827587130 RCS, and to its local offices and affiliates including but not restricted to ECONUME Any Other General Terms and Conditions, including the customer's, will not be applicable. ECONUME may amend these General Terms and Conditions insofar it has been notified to the customer. Such notification may be given by way of a statement on an invoice or by electronic or regular mail. Unless some other date has been specified, such amendments will come into effect one (1) month after receipt of the notification.
Art. 2. Provision of services
ECONUMEC will perform its contract according to the rules of the art applicable in its sector and will do everything practicable to achieve the desired results and attain the objectives set down under the project.
Should either party fail to respect these Standard Terms and Conditions, the other party may send official notice by recorded delivery post setting out the shortcomings or breaches and the items that are not conformed to contract. If the defaulting party fails to remedy the shortcoming or breach within two weeks of that official notice, the complainant will be entitled to rescind the project with immediate effect.
Art. 3. Price and payement terms
The price is set out on ECONUME website.
The payment must be made anticipatively by electronic funds transfer into ECONUME bank account and the possible bank costs linked to these transactions must be paid by the user. The bank deposits must mention the structured message linked to each user's account, delivered by our system, and can always be consulted under the rubric "credits/how to increase my credits" of your online environment. In its absence, an administrative fee of 100 EUR will be subtracted from the user's account.
When the payment is done by means of Ogone (Visa/MC), all related costs will automatically be subtracted with a maximum of 3% of the principal.
Any complaint must be registered with ECONUME by recorded delivery letter within eight (8) days following the payment.
Art. 4. Intellectual property rights
Unless otherwise agreed, all rights of ownership over the results obtained, recommendations made, reports, studies or analyses carried out and data provided, as well as over the electronic "Cargo Tracking System" will remain the property of ECONUME.
Art. 5. Confidentialité
Confidential information will be construed as any technical or commercial information constituting a trade secret, manufacturing secret etc and shall include any disclosure or opinion linked to the parties' personal sphere.
Unless authorised in writing by the disclosing party, the parties undertake that (a) they will not use, reproduce, or distribute such information, either directly or indirectly, orally or in writing, outside the context of the project or order and (b) they will take all measures necessary to avoid such information being disclosed to others, with the exception of members of their staff requiring using it to carry out the project or fulfil the order.
The duty of restraint does not apply if the party to which the information was given can produce evidence that the information was in the public domain, that it knew it already or that it obtained it legally from a third party that was not under a confidentiality obligation.
The party to which the information was given will indemnify the party providing the information against any loss or harm that the latter might suffer due to non-compliance by the former of the commitments as set out in this article.
Art. 6. Liability
ECONUME liability in contract and tort will in all events be limited to making good any existing losses that are the immediate and direct consequence of wilful breach of a duty of care on its part or the part of its staff or subcontractors and will be limited to the amount invoiced for the product or contract performance over the last twelve (12) months with a maximum of EUR 2,500.
ECONUME will in no event be liable for losses of (or damage to) data, loss of business, loss of profit, loss of income, loss of goodwill or clientele (including losses caused to reputation or image) or the loss of savings that had been relied on or the consequences of use by the customer of the results, reports, recommendations, or other data provided by ECONUME
Art. 7. Acts of God
The parties will not be liable for delays or omissions in the performance of their obligations where such delays or omissions are due to an act of God.
"Act of God" means any unforeseeable event outside the parties' control that could not be avoided in spite of reasonable efforts being made.
Should an act of God endure for more than two months, both parties may terminate the project or rescind the order by recorded delivery letter, and in that case no compensation will be due.
Art. 8. Applicable Law and juridiction
France law governs these General Terms and Conditions. Disputes will be subject to the exclusive authority of the Paris courts. France
GDPR for training organizations using econume
PRESENTATION OF GDPR
The General Data Protection Regulation (GDPR) is a European regulation entering into force on May 25, 2018. Its implementation concerns all small or large companies operating in Europe, European or not. The objective is to make companies responsible for the management of personal data. These are common sense practices that are fairly easy to implement for a training organization.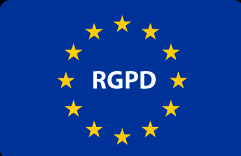 AM I IMPACTED BY GDPR?
Yes! The implementation of the GDPR is an internal process in your organization. It is not enough "to use GDPR compliant software". You must set up a policy for the collection and responsible management of the personal data of your clients and trainees that you store on various media, and on which you carry out processing.
Econume is one of the media on which you store this data and is therefore responsible for implementing the GDPR as a processor. We offer various functions described below to make your life easier in this context. In practice, centralizing data in a minimum of tools will make your life easier.
Most of the routine tasks performed by a training organization for the operational execution of training do not pose concerns for GDPR compliance. It will be necessary to pay attention to security, limit collection to the minimum data that is necessary and for a limited time and allow clients and interns to request the recovery and destruction of this data.
However, you should pay attention to your use of data for commercial purposes. It is the very spirit of the GDPR to fight against abuse on this point. You are using data that has been entrusted to you for training for other purposes, it is imperative that you communicate clearly about these treatments and obtain the informed consent of individuals.
IMPLEMENT THE GDPR AT HOME
Here is a brief list of the different points to address to implement the GDPR on your side in your organization. For more comprehensive information, we recommend that you explore the excellent CNIL guides on the subject.
THE GDPR IMPLEMENTED AT ECONUME
CONTACT THE GDPR MANAGER
Econume has appointed a Data Protection Officer who you can contact in case of questions regarding the GDPR, reachable at rgpd@econume.com.
DESIGNATE A GDPR MANAGER
Designate an internal person who will be responsible for setting up the personal data protection policy in your organization. This person must have the right status and skills.
CNIL advice
PERSONAL DATA OF USERS
User data is visible and editable in their Econume account. The data required in a user account are those legitimately necessary for the operation of the service. A user can export their data from their account, and request to have their account permanently destroyed by contacting us at rgpd@econume.com.
PERSONAL DATA OF YOUR INDIVIDUAL CUSTOMERS AND INTERNS
Collect only the minimum data strictly necessary for your service, and plan to destroy or anonymize it after a certain time.
Customers and trainees should be able to ask you for an export of the data you have stored, as well as a destruction of personal data. Centralize data storage, or carefully map the different storage locations to easily perform export and destruction or anonymization. Clearly highlight a way for customers to ask you about these steps. CNIL guide on data export.
PERSONAL DATA OF INTERNS
Econume provides you with various means to store data on your trainees (editable fields, loading files, notes). The only data required by the software is the last name. Other data should only be collected and stored when necessary for your business.
If one of your trainees asks you to export or destroy his personal data, you have several functions that can be used in your Econume account.
You can export a trainee's personal data in Excel format from his file in the software.
You can anonymize the personal data of interns from their file in your Econume account. Anonymization helps preserve the educational and financial results and your history. The intern's name will be replaced by a code, and all personal information (name, address, etc.) will be permanently deleted.
The stored data has a lifespan of 2 years. After 2 years, an email will be automatically sent to you offering to anonymize or keep a list of old data that will be presented to you.
LIST THE PROCESSES CARRIED OUT ON THE DATA
List precisely the data collected, their real need and use for your activity. Document this mapping in a register (model proposed by the CNIL).
Check that each third-party service used (online software, file storage, etc.) has implemented the GDPR on its side. Collect an authorization from your customers for any treatment carried out (a checkbox for each treatment, unchecked by default). Think of the treatments concerning commercial communication.
SECURE DATA
The data must be stored securely (password to access it). Encrypt data on database disks. If you have data on desktop computer disks, enable hard disk encryption (Windows, and Mac guide).
PROCESSING CARRIED OUT ON THE DATA
To provide you with the best possible customer support, we use the Intercom system of chat or email communication between you and us. This system complies with the GDPR and only collects the minimum data necessary for this service (no data related to your customers or training sessions).
Your data concerning your clients and trainees are not subject to any data processing other than their use as part of the use of the Econume software by you. They are not transferred to any other service.
DATA SECURITY ON ECONUME
All data exchanges between your web browser and the Econume server are encrypted by SSL protocol. Your account data can only be accessed with your username and password. Econume servers are in Europe (Ireland) in the AWS data center via the web application host Heroku. This datacenter is ISO 27001, SOC 1 and SOC 2 / SSAE 16 / ISAE 3402 certified. The databases are continuously protected by physical backup, and the data is encrypted on disk in AES-256.
Our commitment to user privacy
Keeping users' information safe, secure, and private is among our highest priorities at Econume. Over the years, we have worked closely with data protection authorities around the world and have implemented strong privacy protections that reflect their guidance.
We are committed to complying with applicable data protection laws
We are always working to stay compliant, which helps make compliance easier for your business. We are audited regularly by third parties, maintain certifications, provide industry-standard contractual protections, and share tools and information you can use to strengthen your business' compliance.
Incident Response
We will promptly inform you of incidents involving your customer data in line with the data incident terms in our agreements with you. We maintain and continue to invest in advanced threat detection and avoidance technologies, as well as a rigorous 24/7 incident management program to help you identify and respond to security or privacy events without delay and with available information.
User Transparency
We provide transparency about how data is used in our eLearning products. We ask users for permission to use data to personalize eLearning and provides transparency into how the data is used in real time via "Why This Ad?" We provide detailed explanations on how we use data on Privacy Policy. We also provide transparency to users on what data Econume saves about them in their Econume Account, where users can view and manage their data, privacy, and security settings. Users can go to their ad settings to control the use of data for eLearning personalization and for all eLearning shown by Econume, including on our Econume Marketing Platform products. As part of our continued commitment to giving users controls to manage their privacy, we have updated our account creation experience to give users more options on what data they choose to save in their account
Our commitment to data protection laws
Privacy regulation is changing. We know you need to select products that are both compliant with all applicable data protection laws and use personal data in ways that are compliant. Below is information on how Econume is complying with specific privacy laws.